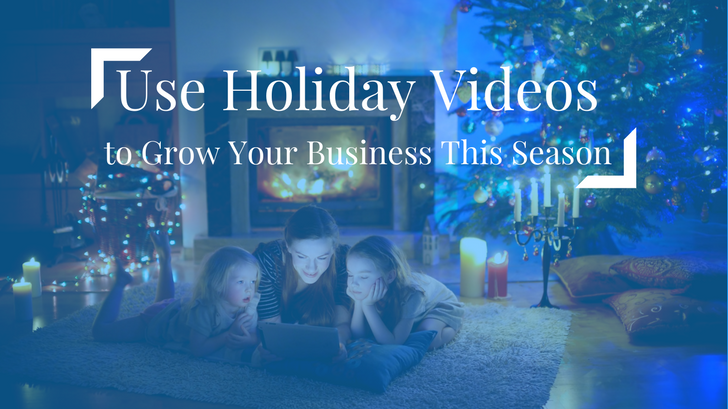 With the holiday season just around the corner, many businesses are gearing up for their holiday marketing plans already. Consumers have their wallets ready and businesses are waiting to be a part of the action. Set yourself apart this holiday season by using holiday videos on your website, social media channels, and email marketing. Here are some ways that you can utilize these videos to help grow your business.
Think about the holiday videos that would work best for your business.
Not all videos are created equal. If you have a tangible product, you could use a video that showcases how to use that product… with a holiday theme. Or maybe you can show your audience one of your favorite holiday recipes? Use a how-to video to connect with your audience on a more personal level.
Another option for holiday videos is to showcase how your business gives back to the community. Tis the season to be charitable and jolly, so these types of videos show that you care about the community. They can also encourage others to do the same in terms of giving back.
Go the extra mile to send holiday wishes to your audience with a greeting card video.
These holiday videos can be motion graphics or live-action… if your message of holiday wishes is genuine, it doesn't matter what format it is in. If you grab the attention of your audience, you can help increase your brand exposure and brand image.
Here are some tips to get the most out of your holiday videos this season:
Start early – get your plan together and your videos out as soon as possible.
Share your videos where your customers are – social media, in an email blast, and on the front page of your website
Keep your video short – your audience has a lot on their mind this holiday season, so don't spend 7 minutes explaining how to make a gingerbread house
At Video for Business, we would love to help you with holiday videos. With our motion graphics holiday cards, there is a budget-friendly solution to all of your holiday needs. We can also help with featured products or even special event videos! We are your partner for all your video production needs… during the holiday season and beyond! You can check out our portfolio to see some of our work or contact us to get started today! But, don't wait too long – the holidays won't last forever