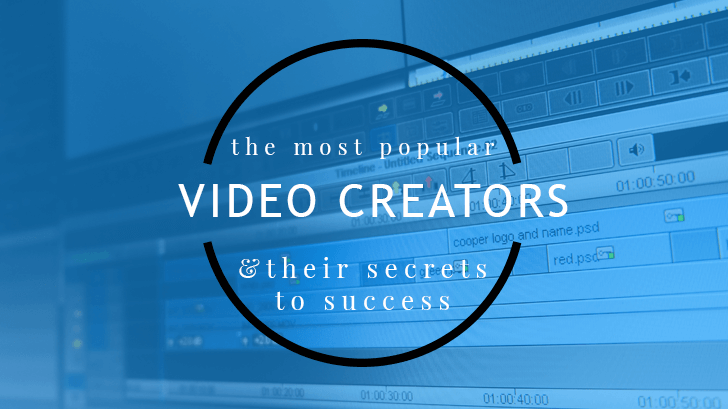 Learn more about the most popular video creators and why they have become so successful! This blog goes into what makes viral, popular videos great.
Creating videos for an online audience is no easy task, but the most popular video creators of this year are proving that this task is not an impossible one. According to Tubular Insights, there were 451 billion video views across Facebook, Vine, Instagram, and YouTube in October 2016 alone. The top five most popular video creators in October 2016 were UNILAD, The LAD Bible, Viral Thread, Tasty, and 5-Minute Crafts. These five video creators grabbed over 9 million views in October 2016 alone. What's their secret to success?
A key aspect of these popular videos is that their length is generally short. For example, Tasty by Buzzfeed, creates online recipe videos that are short, sweet, and to the point. Tasty gives viewers exactly what they're looking for in just a couple of minutes: a great recipe and how to make it. These videos need to grab the attention of potential viewers, get to the point, and drive them back to another website.
Furthermore, the 5 five most popular video creators have another secret to their success: all of their videos are optimized for mobile.
It's no secret that more and more people use their smartphone to get all of their information. The same is true when it comes to watching videos online. No matter if you're commuting or killing time at the doctor's office, watching videos on a smartphone is becoming the way to do it. These videos need to be easy to consume and easy to share; with one click of a button a viewer can send a great video to their friends.
These video creators are also paying attention to the channels that they post their videos onto. Not all video content is created equal when it comes to social media channels. Buzzfeed's Tasty has had great success on Facebook due to the fact that their videos are brainstormed, designed, and created all with one thing in mind: make the video optimized for Facebook and Facebook users. If you'd like to learn more about how to optimize your video for a particular channel, check out the blog we created about it!
At Video for Business, we can help you harness some of the success that the most popular video creators have had. While we can't promise that you'll go viral overnight, we can promise that we will help you create videos that will speak to your audience in your voice. We can create business profile videos, product demonstration videos, customer testimonial videos, and so much more. Contact us today to schedule a free consultation with one of our video production representatives so we can work with you to start making your vision a reality!