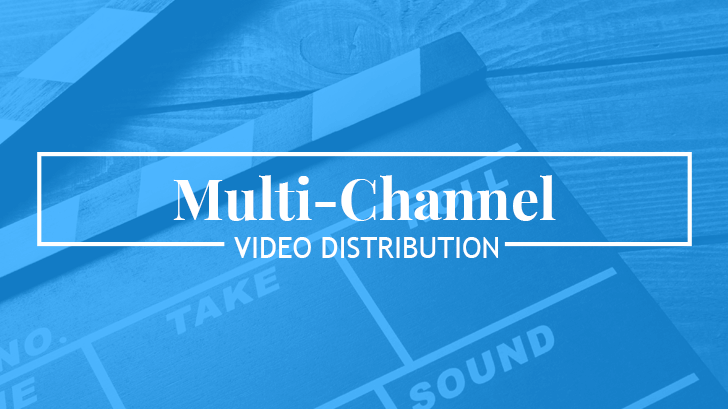 Gone are the days of simply posting your video on YouTube and calling it a day. There are now multiple channels of distribution for videos. In 2015, more than 8 billion video views were captured on Facebook alone. This demonstrates the rise in multi-channel video distribution that just can't be ignored. You have to put your videos in more places if you want to reach potential customers.
If you want to reach these potential customers, you have to go where they go. It's no secret that social media sites have extremely loyal followers. These followers love videos and watch them every second of every day. However, there has also been a rise in strictly video channels, such as Vimeo and Brightcove. Each of these channels has seen millions and millions of views since their inception. There's one message that rings clear in all of these statistics:
Welcome to the rise of multi-channel video distribution. Get with it or get out.
Okay, so you have a great video that's been shot, edited, and is ready to go… where should you upload it to and how should you adjust for each platform? Well, knowing some of the best practices for multi-channel video distribution is a great place to start and will help you go a long way in your video marketing strategy.
First things first, make sure that you adjust your video message based on where you're posting your video. Different channels have different viewers – viewers with vastly different personalities and opinions. If you want to place your video on Facebook, you must make sure that it is easily shareable and interesting enough to keep viewers engaged. Perhaps you'd like to put all of your videos on Snapchat – dear god don't try and put a 20-minute how-to video that will likely bore your viewers to death.
If you're looking to up your video game on various platforms, here are some specific best practices for each that will help you solidify your multi-channel distribution strategy:
Facebook
Video length of one minute or less
No sound – just text
Comedy goes a long way with these viewers
Twitter
Make sure you have a catchy title that will capture attention
Tell viewers what you'd like them to do after the video – visit your site, click for a sale offer, share with their friends
YouTube
Visually compelling thumbnails help improve clicks and engagement
Do you like to produce long videos? Go for it!
Optimization for search engines with keywords
If you're looking to get a piece of this ever-growing pie, Video for Business can help. We can create videos that work and look great on every video distribution channel. Our company profile videos are a great addition to your Facebook pages because they introduce who you are and what you can do in one minute or less. Or maybe you'd like to feature a customer testimonial for a Twitter advertising campaign – we've got that down!
All of our videos feature a compelling call-to-action at the end that will let your viewers know exactly what you want them to do after watching your video. Whatever you'd like to say, we can create a video that perfectly captures your message. Contact us to get started on your multi-channel video distribution strategy!