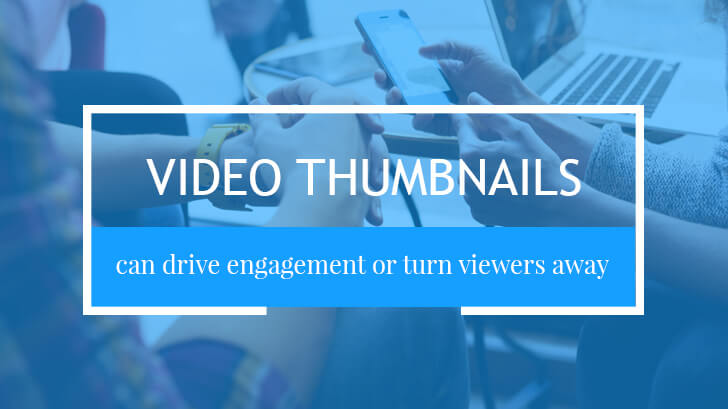 Everyone has heard the old cliche, "Never judge a book by its cover". While this value may have been driven into your mind by your parents, it is not true in the online world. With all of the information that Internet users consume in a day, judging a book by its cover becomes a necessity. If your business is using video in its marketing strategy, video thumbnails are the way that users judge your video before they even click play.
Why are video thumbnails so important anyways?
That's a great question; the answer is simple – it provides a glimpse into what the video will be about. Viewers will look at your thumbnail and decide in a matter of seconds whether or not they would like to click the play button. If you're relying on YouTube to automatically select a thumbnail from your video, then you're missing out on making a great first impression. Think about it like a movie poster; if the movie poster is a random shot of the film, then people could get confused as to what it is about.
Best practices for creating engaging video thumbnails
The perfect video thumbnail will vary from business to business and there is no one-size-fits-all approach. Use these best practices as a benchmark and test what works for your videos.
It should give viewers a hint of what the video will be about.

It should be optimized for ALL devices: desktop, mobile, and tablet.

The play button should be clear enough for viewers to click it.
There is also research suggesting that viewers are more likely to click video thumbnails if they feature human faces. More specifically, we like eye contact and view that as a positive sign of communication. However, your thumbnail should make sense for the context of the video – if it doesn't feature any human faces in the video at all, then why would you put a face in the thumbnail?
Keep these tips in mind the next time you create video thumbnails for your YouTube page or Facebook page. Or anywhere else on the Internet for that matter. Use A/B testing to see what kind of thumbnails resonate with your audience and then measure and analyze. At Video for Business, we can help you test and analyze different video thumbnails for your business videos. No matter what your project is, we're happy to help! Contact us today to learn more about our video production services!